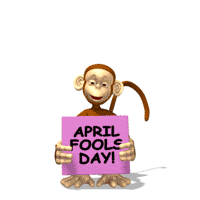 So, have you pranked anyone today?
I thought real carefully about letting loose on Doug.. like at 1am, get in his car and park it around the block. LMAO He's been so stressed the last two weeks at work though, I'm sure that would have had his heart pounding a bit too much.
This messy little boy has been pulling his diaper off lately. It's been crazy.. say up to 5 times a day!! Each time, I try to take him to the potty when I notice, to see if he'll go. (no, he doesn't) It was the funniest damn thing a few minutes ago.
Cameron had taken off his diaper again. I walked by and saw his diaper on the floor. "Cameron, c'mere son, Let's get this diaper back on you!"
Samantha walks up and said, "hehehehe Cameron pulls on his penis and it GROWS!"
ROFL - no foolin'! ayiyiyi
...what next? lol